We can remove any tree – from a single tree you are uncomfortable cutting down yourself, to unsafe trees that are located in tight spaces adjacent to valuable property. We are equipped and capable of climbing and rigging down sections one at a time in a safe and effective manner for larger trees in an urban environment. We frequently work with cranes for larger trees or trees that are too dangerous to climb.
We will tailor the job to your specific preferences, anywhere from removing everything and leaving your yard clean, to leaving the wood in place for you to split your own firewood. We can even recommend a trusted sawyer if you would like the full experience of having your beautiful trees made into lumber.
Is Your Leaning Tree Dangerous?
While predicting if a tree poses a threat can be difficult, we can assess the many potential factors that will cause a tree to fall, including rot or decay, root lift, fungal growth, or insect infestation. While removal is sometimes the only option, when possible, we will take measures to mitigate the danger while preserving the tree.
Call us for a free on-site estimate and we will be happy to assess the tree. For a minimal cost, we can also provide formal assessments for informational purposes or to get approval from your homeowner's association.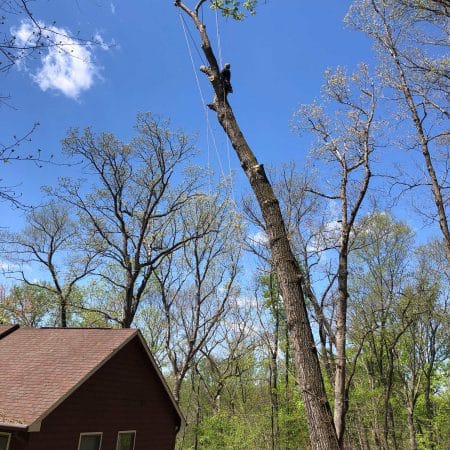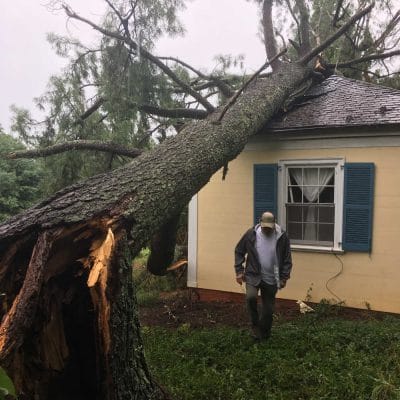 What if My Neighbor's Tree Falls on My House?
Having a tree fall on your house, regardless of whoever owns the tree, is a scenario that no one wants to face. However, we will be there for you if it does happen and can assist you through the process. Typically your own homeowner's insurance will cover damage from a tree that falls on your house, but if your neighbor was negligent in not removing an unsafe tree, they may be held liable.
As a licensed and insured tree company, your insurance provider should have no problem accepting our services.